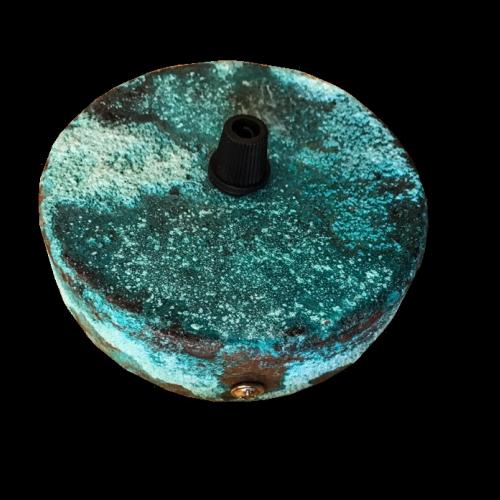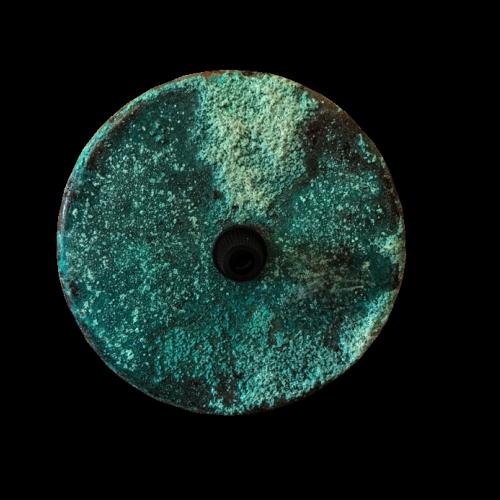 A beautiful hand finished verdigris copper ceiling rose. To create this natural aged effect takes several days to break thesolid copper finish down, once the patina/verdigris has set in we then lacquer the rose by hand to seal the finish. This is a very unique and beautiful patina finish and each one we make is unique. They each verdigris slightly differently and this adds to the character of the finished lighting design. The end result is a textured raw industrial rustic copper that is very eyecatching. I also offer verdigris copper lampholders if you want to make up a pendant light. I have a large choice of fabric lighting cable to choose from and designer decoartive LED lamps. I can even wire and test it all up for you in my workshop and send you a finished pendant. I offer these ceiling roses with 1-7 outlets. To discuss a bespoke pendant or lighting design please email me info@fraserbesantlighting.co.uk I am always happy to talk lighting and I am very passionate about my work. 
I make this ceiling rose using 1.5mm thick British copper so the weight and quality of this component is second to none. These ceiling roses are 100mm wide. Each rose is supplied with a metal fixing bracket, earth lug and wago connectors for an easy installation. We supply this ceiling rose with plastic cord grips or you can buy it with a metal decorative cord grip in polished copper or black finish which realy sets this ceiling rose off. Please choose from the drop menu. We also make metal E27 lampholders in the same finish.
I decided to create my own brand of lighting as we wanted to get back to the old mid century British approach to manufacturing. Not a that will do attitude but products that are built with care and made using the best materials, fittings that will stand the test of time. Having had great success selling genuine vintage lights from the 1940s I wanted to bring a range to market that will also still be working in 60 years time.
Specification
Fitting type
Make your own pendant
Finish / colour
Verdi Rustic
Bulb type
Decorative Globe
Light bulbs included
Light bulbs sold seperately
Switching
External Switch
Estimated delivery time
2day(s)