Home Cinemas
Home cinema demo room.
I am now able to offer luxurious home cinemas and have just finished building a beautiful demo room at my showroom in Bristol. Having always loved films and being a massive James Bond fan I always wanted to get into home cinemas and love the idea of helping people design and build this dream room for their homes. The movies are very glamorous and I think everyone has fond memories of going to the cinema as a child. Films connect you to a time in your life and have a way of making you feel great, for me watching Home Alone on Christmas Eve is a classic and I love it. Imagine having your own cinema to enjoy these moments and spend time with your family.
When I moved in to my new showroom there was a large space available and I wanted to build a cinema here. I partnered up with the award winning and very talented Cinemaworks. With over 10 years experience in cinema design it was the perfect fit. Myself and Owen shared a vision and a passion for cinemas and luxurious unique design. So we have created a truely special room. The picture, sound and lighting are unrivalled. From the soft velvet reclining seats to the modern angled walls, all designed to point the hidden speakers at the desired centre point of the room. An emmersive experience offering the finest quality in sound. The screen widens when the film comes on just like a real cinema. It's really very special. 

The lighting.
I was exited to do something different in this room and wanted to show off just how epic lighting can be. All the lighting was strategically used around the room to highlight the angled walls, where the wall changes shape we fitted a vertical profile from floor to ceiling to run LED tapes. It's the first home cinema of its kind, fitted with the very latest digital pixel LED tape. It has special software to allow each single diode to be programmed. The effects that can be acheived are amazing. Vivid colours chasing round the room, pulsing reds, rain effects with dots of light falling down the walls. At the press of a button the whole room can change green if your watching football. Or firework effects can fill the ceiling if your sat watching your favourite Disney film. Of course the whole room can be submersed into darkness to allow you to engage with the film. We have even fitted a small microphone which means the RGB digital tape will change colour to sound. The options available are vast, I welcome you to come and see what we have made and what can be achieved. 

There is also a bar with velvet stools to show how a room like this could also be used for entertaining and socialising with friends and family. Music concerts and live events such as the Olympics or World cup can be enjoyed here. This serves to show how such a space could be used for different things, not just the die hard film fan.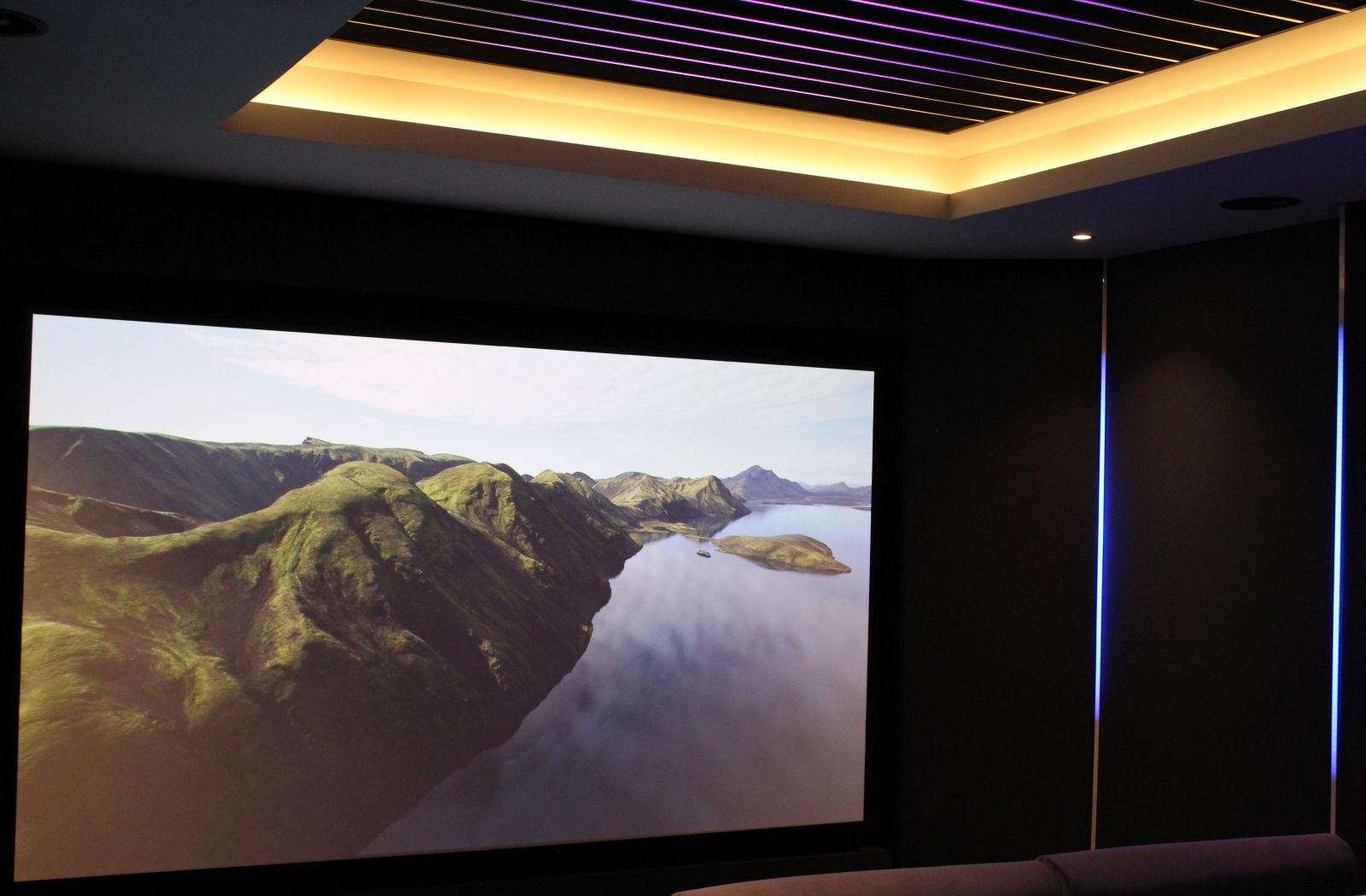 This room is all controlled via the best Rako home automation. A brand I have worked with for nearly 8 years and use on many of my lighting design projects. The sleek mood control has each scene clearly marked from Film to Sport. It brings on the cinema and the house lights, timers set to darken the room when the film starts. It really was the only choice and knowing how reliable this kit is I wanted to show it off in the cinema room. Rako were all to happy to be involved and love what we have made.

Come and visit the showroom and cinema.
I am very proud of this home cinema room and invite you to come to my Bristol showroom and see it. You can also view all my handmade lighting and have a consultation with me to discuss your lighting design. I love what I do and have a great passion for my work. The showroom is open 6 days a week with customer parking, but if you want to come and speak to Owen about a design he is the principle cinema designer so I would call to schedule an appointment with him. The showroom number is 01179425355.