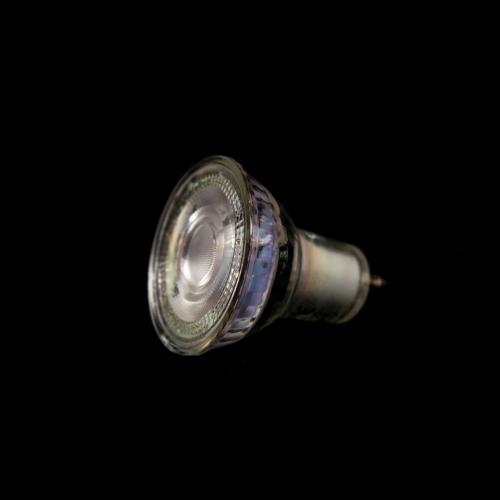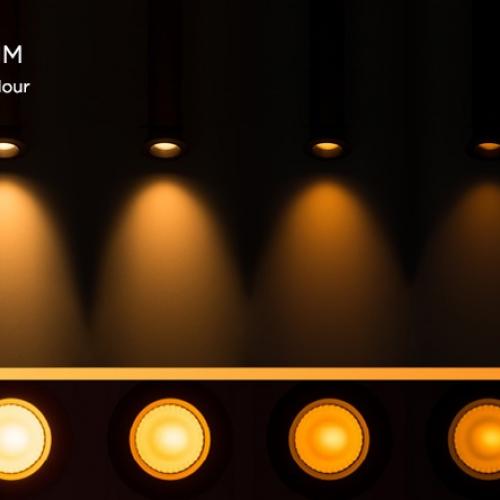 Dim to warm LED GU10. A dimmable LED GU10 ideal for use in our industrial downlights or adjustable wall lights. 4.6watt consumption A+ energy saving producing 380lm. This super low energy efficeint LED is also fully dimmable and as you dim the LED down it gets warmer, the colour temp will change from 2700k warm white down to a gorgeous 1800k amber warm white. This softer more orange light tone is ideal for dining rooms, lounges or bedrooms. The red spectrum releases a hormone in the brain called melatonin which relaxes you and will ultimatley help you sleep. It is the ideal source of light and colour to end your day with. 
This WarmTone GU10 also features a full glass body, further mirroring the familiar look of a halogen spotlights that they are designed to replace. The WarmTone GU10 Spotlight combines the aesthetic benefits of traditional lighting technologies with the energy efficiency and long lifetime of LED. If in use 5 hours per day it is expected to last 10-12 years and has is guaranteed for 3 years so you have piece of mind that this is a good quality LED. After 6-9 months use this LED will have paid for itself by way of the saving you will make on your electricity bill so it is a great way to help reduce your household outgoings every month. LED lighting is now the most popular choice of lighting and the reliabilty and life expetancy of a good branded LED lamp has improved greatley over the past 10 years. If you want an easy way to save money on your bills then changing your lighting to LED is the way forward. 
Bulk buy deals and discount for trade are available please contact me to discuss this info@fraserbesantlighting.co.uk I have these LEDs in stock now and can arrange a quick delivery for you. 
Specification
Colour (Kelvin)
1800-2800k
Estimated delivery time
2day(s)