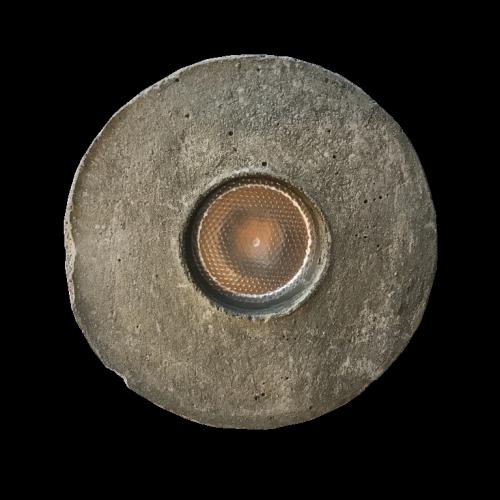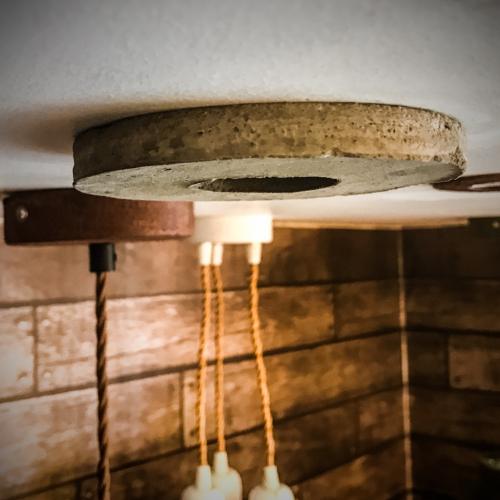 A hand finished Industrial style downlight concrete bezel ideal for urban or industrial room sets and interior designs. This fire rated concrete downlight comes with a hand made concrete bezel which is fixed over the metal lock in bezel. It is a gorgeous finish and would compliment any retro kitchen, urban restaurant or gastro bar. If you are looking for a truely unique and textured design and want a stylish spotlight then this may be the answer. Each one we make in the workshop is slightly different and due to the process we follow when making them no two are identical, it is also a challenge to get them perfectly aligned with the central hole. We keep a few on the shelf so small orders can be satisfied in 2-3 days. For orders over 10 units please allow a minimum of 2 weeks for us to make the bezels and give them time to set. If it is a time sensitive order feel free to contact us ahead of placing your order and we will discuss the time frame to make the lights with you.
The idea behind these downlights is that using a suitable 400-500 lumen lamp these can be used alongside other vintage lighting such and pendants or wall lights which are not always great for primary lighting. Downlights are great for increasing overall light levels in a space. So we can now offer primary and secondary industrial lighting that matches.
The downlight itself is Part B and Part E compliant. It meets all the fire safety and acoustic ratings. It is suitable for 30,60 and 90 minute fire rated ceilings. The cut out is 68mm and the overall height of the downlight is 94mm. The recess depth is 115mm. It comes less lamp and takes a 50 watt halogen 230v GU10 but we would recommend the use of an LED lamp. The connection for the cable is a simple loop in / loop out terminal which makes installation very quick and easy. This downlight is not suitable for bathroom use.
We have these available now and we have them on display in our Bristol showroom. Please feel free to come in and see them first to check the finish or order a sample from us.
Specification
Estimated delivery time
5day(s)
Finish / colour
Concrete shade
Fitting type
Mains Fire Rated Downlights